How are SNP-related genes regulated in an expression dataset? Are these genes enriched for particular biological functions?
This recipe provides one method for identifying enriched biological functions in single-nucleotide polymorphisms (SNPs). An example use of this recipe is a case where an investigator may complete a genome-wide association study (GWAS) and wants to know the SNPs that are associated with certain genomic coordinates, in order to determine which genes have particular biological functions.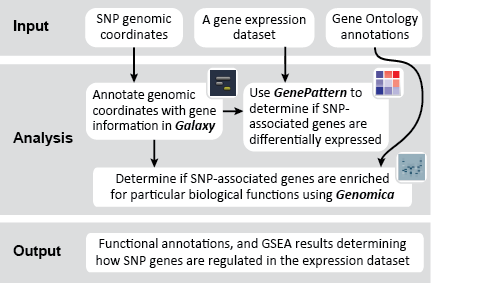 In this particular example, we imagine a scenario in which an investigator completes a GWAS study, obtaining a list of genomic coordinates that are associated with SNPs. However, simply knowing these genomic coordinates is not always informative; the investigator is also interested in knowing which genes lie in these regions, and what kinds of biological functions these genes may have. In this particular example, we are interested in answering two questions:
Are the genes near these SNPs enriched with particular biological functions?
Are the genes near these SNPs significantly up- or down-regulated in some other biological conditions, such as cancer?
To answer the first question, we will find Gene Ontology functional annotations using Genomica. To answer the second question, we will use the Gene Set Enrichment Analysis (GSEA) module in GenePattern, comparing the SNP-associated genes to a gene expression dataset from a study of epithelial cancer stem cells. This study evaluated the ability of oncogenes to activate an embryonic stem cell program in differentiated adult tumor cells, by transforming human keratinocytes into squamous cell carcinomas using oncogenic Ras and IκBα, plus one of three genes: c-Myc, E2F3, and GFP (Wong et al. 2009. Cell Stem Cell). Comparisons between these three genes showed that c-Myc could re-activate the embroynic stem cell program. Comparing the SNPs to this gene expression dataset can determine whether this set of SNP-associated genes are differentially regulated in c-Myc samples, when compared to other genes such as GFP and E2F3.