Which genes lie in my copy number variation regions? Are these genes enriched for any biological functions or pathways?
This recipe provides a method for identifying biological functions for genes lying in copy number variation (CNV) regions. An example use of this recipe is a case where an investigator may want to examine their list of CNVs to see which genetic regions are amplified or deleted, and determine the biological functions or pathways associated with these amplified or deleted regions.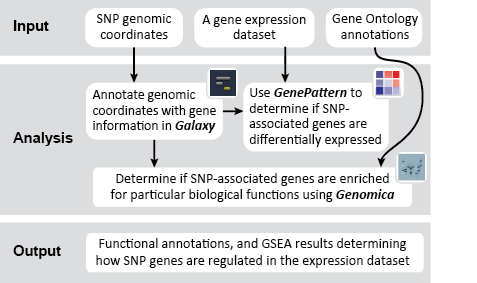 Copy number variations (CNVs) are large alterations to genomes, such as amplification or deletion of large segments of a chromosome. They can range in size from a focal aberration in a single gene to aberrations covering entire chromosome arms. These variations in the genome have been associated with different conditions, such as cancer. Many genomic analyses produce a set of genes which are assumed to be relevant to an underlying biological mechanism or phenotype. Thus, an investigator often has additional questions about the function or relatedness of these genes: Are they part of the same pathway? Do the gene products interact physically? Do the gene products localize to a specific part of the cell? Are the genes associated with certain stages of development? These questions, and others like them, can be answered by performing functional annotation of gene lists to better understand the underlying connections between genes.
In this particular example, we imagine a scenario in which an investigator identifies CNV regions that are amplified or deleted in glioblastoma multiforme (GBM) tumor samples, using a method called Genomic Identification of Significant Targets in Cancer (GISTIC, Mermel et al. (2011) Genome Biol.). Given a set of CNV regions, the goal is to infer which biological functions (e.g., metabolic and regulatory pathways, chemical perturbation signatures, etc.) are overrepresented in the set of reference genes that overlap with these regions. In particular, this recipe uses several Galaxy tools to find the overlap between CNV regions and reference genes obtained from the UCSC Table Browser. Then it uses the Molecular Signatures Database (MSigDB) to identify biological functions of the overlapped genes.
How can I use this recipe? This recipe may be modified to analyze CNV regions derived from any organism for which an annotated reference genome exists. Nor does the recipe depend on the algorithm used to identify these regions (GISTIC); any source of CNV data can be used. Once an investigator has pinpointed the CNV regions believed to be influencing their phenotype (disease state, cell type, etc.) of study he/she can use this recipe to identify functional pathways that may be affected by these copy number changes and draw closer to an understanding of the mechanisms behind these CNV effects.