What subnetworks of differentially expressed genes are enriched in my samples? What biological functions are they related to?
This recipe provides a method for identifying differentially expressed genes between two phenotypes, such as tumor and normal, to find subnetworks of interacting proteins and determine their functional annotations. An example use of this recipe is a case where an investigator may want to compare two phenotypes to determine which gene networks are similar between phenotypes, and to determine how functional annotation changes between phenotypes.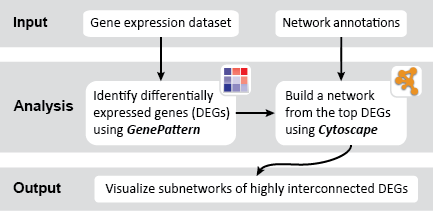 In particular, this recipe makes use of several GenePattern modules to identify differentially regulated genes, then uses several Cytoscape plugins to identify potential interactions between gene products, and to visualize the resulting network.
Why differential expression analysis? We assume that most genes are not expressed all the time, but rather are expressed in specific tissues, stages of development, or under certain conditions. Genes which are expressed in one condition, such as cancer tissue, are said to be differentially expressed when compared to normal conditions. To identify which genes change in response to specific conditions (e.g. cancer), we must filter or process the dataset to remove genes which are not informative.
Why protein interaction network analysis? Gene expression analysis results in a list of differentially expressed genes, but it does not explain whether these genes are connected biologically in a pathway or network. To better understanding the underlying biology that drives changes in gene expression analysis, we can perform network analysis to determine whether gene products (e.g. proteins) are reported to interact. To identify potential networks or pathways, we search for highly interconnected subnetworks within a large interaction network.